I've been working hard on some calendar pages for the swap I'm in. I started this swap back in 2006 with a great bunch of gals that I met online. Some are still around and still participate, sadly some have moved on, and some just don't have time for scrapbooking anymore. But, every year the calendar swap fills up and is alot of fun. This year I decided not to host, my thanks to Denise and Cindy for taking on the duties. They chose to do a calendar with a recipe included. It was quite a challenge to fit both on a 6x6 page.
I made a pocket with a piece of pattern paper. You can't really see the sewing on the paper, but I sewed on a pocket and sewed together two hearts for a little 3D action :) I even added a bit of Stickles.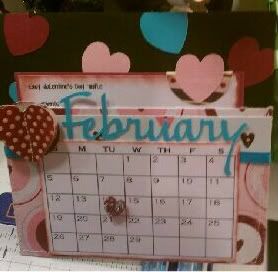 Supplies Used: Stampin Up & Bazzill Cardstock; My Minds Eye, Love nest pp; CTMH ink for the edges; Cricut Design a Calendar cartridge; Su ribbon; Stickles
I hope the ladies enjoy these and I can't wait to see what the others send back.