I've been working on a few little gifts this past week. I belong to a stamp club that meets one Friday each month. There are around 10 or so ladies that meet. It's such a great time and everyone just enjoys each other. So, I decided to make a little something for each one for the Christmas holiday.
If you scrapbook and make cards, then you know the new "in" embellishment to add is a stick pin. You can make lots of assorted pins yourself, or buy them already premade. They have some beautiful pins out there! But, where do you keep them so you can see them when you are ready for one and so you won't forget them? This is where my present idea came from. I made pin cushions. They are so simple and I just love how they are turning out. Here are a few that I have already made. I'm still working on making several more.
Here they are all together:
Now, just a little closer: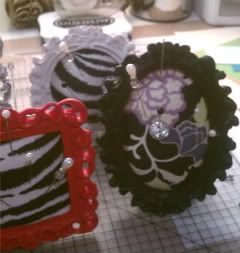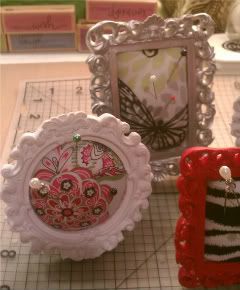 Oh, and great news for me!! I found a way to make an inexpensive light tent box thing..... hopefully it will improve the lighting of my pictures. All of my things look so dark and drab, but in person they aren't. My next project is the light box, so let's hope I get it finished fast.