This stamp is one from the dollar spot at Michael's. I skipped over all of these a time or two, but decided to run back and get them. Unfortunately, by the time I made it back I missed out on a couple :( But, I'm lovin' the ones I did find!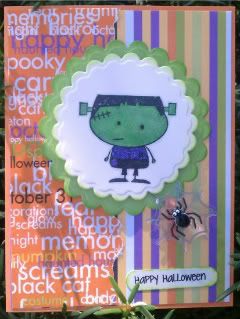 Supplies: SU cardstock, KI Memories pp; Nestabilities; SU punch; Recollections sticker; Copic markers & Spicas
I'm still working on taking better pictures. I am on vacation for a few days so this one was finished in time to take a picture outside but, it's a little overcast. Which made for a gray look to the picture anyway. Since I only make stuff for fun, I don't want to invest a lot of money in to a light box, light, and all that stuff. Is there a cheap way to make my pics look great?