Hello~ I am in a Thanksgiving/Fall mood! I was flipping through some of my Close To My Heart papers and kits and noticed a paper pack that I haven't used yet. It's called Twitterpated. I ♥ this paper. It has awesome colors and prints. Unfortunately, I don't think you can buy it anymore :(
I used a new stamp set called Harvest Happiness and my Cricut. This was my first time using the Cricut to cut out images and then lining up the stamps and stamping. I think it turned out great and looks super cool. I am going to search out more stamp sets that have that feature. Sure beats fussy cutting..lol That's the term I use for cutting out my images ;)
For the leaf, I used a technique called Rock n' Roll. Most of you probably know what that is, but for those that don't, it's a simple technique used by just rocking the stamp around the edges of an ink pad to give the image more color and depth. The Honey and Barn Red made perfect colors for the fall leaf.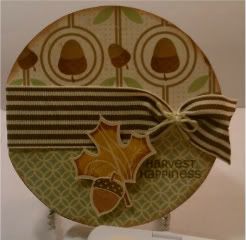 Supplies: CTMH Twitterpated PP; CTMH round card; CTMH ribbon; CTMH Cricut cartridge, Art Philosophy; CTMH Honey and Barn Red inks for the leaf; SU Chocolate and Creamy Caramel inks for the nut; Twinery celery twine
The true colors of the card can't be seen due to the picture quality.