Welcome to our very first Everything ABC's Blog Hop! This will be the first of many throughout the year so make sure to check out what we have new for you about every two weeks. Happy New Year and Happy Hopping!

For this hop we will be featuring the letter A. This may be the name of a paper, a stamp set or an embellishment. Whatever the crafter has chosen as their A element will be featured in their post.

If you came from Joanne Barnes at Josie's Joy - then you're on the right track!

I made "A" trio of cards. Here they are together:
This card was made using the "A Bow Wow" set from CTMH. I am in love with that little doggie.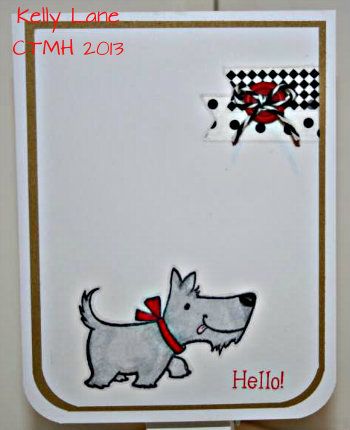 Supplies Used: CTMH Bow Wow stamp, CTMH twine, CTMH button, Misch Washi tape, CTMH inks, Spectrum Noirs for dog
The second card was made using the "Quick Butterfly" stamp set, which is a size A. CTMH stamps are in order of size and price, by the alphabet. "A" size stamps are $6.95.


Supplies Used: All CTMH products: La Belle Vie paper, Seam Binding Ribbon, Mocha pearls, glitter glue

Have you ever imagined a card and it looked beautiful in your mind? Well, I usually do that and it never comes together. Last night, it all came together for me! I was so excited to see this one finished. It is truly a beautiful card. I used the "Avonlea" paper.


Supplies Used: CTMH Products: Avonlea paper pack,gray polkadot satin ribbon, gray twine, clear button, Love stamp from Mad About You set, Misc stick pin
Your next stop on our Everything ABC'S blog Hop is
Jen Patrick at Roxybonds Scrappin
Here is the complete lineup in case you get lost along the way: