This is my first post as a new consultant for Close to my Heart! I finally took the plunge. After being a customer for years and years, the campaign they had last month was to good to pass up. The kit practically paid for itself so I had to take a leap of faith and try to sell what I love.
I've been a scrapbooker since 2002. Since that time, I've seen a lot of companies and used a ton of new products. I still love lots of things, but Close to my Heart has stayed a favorite of mine. The paper kits they offer now are a tremendous value and it makes things so much easier and quicker for a scrapbooker like myself with limited time to have all of the matching necessities in one easy pouch to pull out. The kits come with a paper pack the includes 6 sheets of 12x12 double sided designer paper and 6 sheets of 12x12 cardstock, a clear stamp set, some embellishments, and a brochure that gives you measurements with ideas to make 4 12x12 layouts. All for around $30. There are some awesome add ons as well if you want. Everything is so matchy matchy.. gotta love that!
Since I'm a demo now, I decided to make a layout using only stuff from Close to my Heart. I thought it would be hard, but I found it fairly easy. So easy in fact, almost everything I used came from one kit.
This layout used the Stella kit. This kit is hands down one of my favorites in the new book. The colors are so spectacular and just in time for Spring/Summer pages. My favorite time of year to scrapbook.
I was looking through some different CTMH blogs and one layout really stuck out to me, so I decided to recreate it. I changed mine up a bit, but the bottom layer of pennants are the same. Here is the link to the original layout http://wizardshangout.blogspot.com/2012/03/simply-sweet-1-pager.html If you have some time, you must check out her work. I am in awe of almost everyone one of her creations! She makes it look so easy.
Here is my version: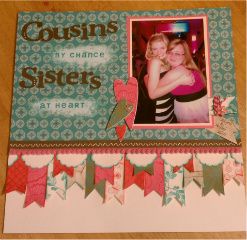 Supplies used:
Stella kit; Bitty Buds asst; Bitty Opaques Pearls; Twill; PomPom Trim from the Designer Ribbon pink collection; and some random CTMH stamps for the banners; Lagoon and Smoothie Inks