I've been looking through photobucket at some of my older cards and realized I'd never shared this set with you. My mother-in-law loves to send cards! She has the most beautiful handwriting. Lucky for me, that makes gift giving easy. I always whip up a few sets of cards. Since she does mail them, I try to keep them clean and simple, which means no lumpy bumpy..lol
The first card is a stamp set from Close to my Heart called Gnome Garden. I don't think you can purchase it anymore, but I adore the images on this set!
For the next two cards, I used stamp sets from the dollar bin at Michael's. They had some of the cutest images over the Spring!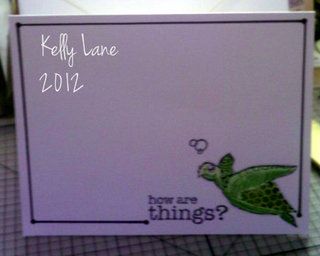 I made two of each card, for a set of six. I also made a cute little card holder for them and tied ribbon around for a beautiful presentation. I can't seem to find a picture of that so you'll have to trust me ;) On all three cards, I used Copic markers to color in the images.
Check back in for more artwork tomorrow. Remember all that talk about a light box?? Well, guess what?? My dear sweet hubby finally made one!! Now, we have to figure out the best lighting to use for it.