Another Halloween post today. I am so excited about Halloween this year. I can't wait to get all the decorations out of the shed and decorate. I just have to get hubby on board to help, which might take a little more convincing. ;0)
This card was made using last years CTMH Halloween kit. The colors and fun stamp set are awesome to work with. The cute little guys can be made any way you want them. The kit is called Hooligans. I spiced up my little guys with some CTMH Prisma Glitter, so glittery!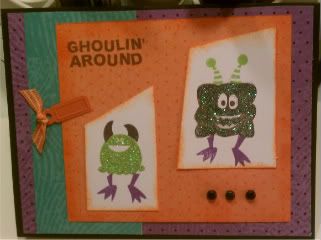 *I am working on trying to set up a place to take better pics. So please ignore the bad lighting.